Christmas, 2000
Well, we survived Y2K. As you may have heard, civilization didn't come to an end, so we all just had to go back to work.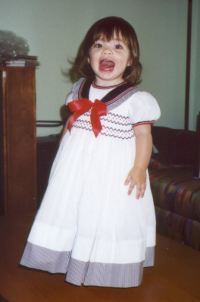 Lucinda in the dress Grandpa Schwarz bought her in Spain
Lucinda is nearly two years old now. She is walking and talking, although we still have to translate much of what she says. She is very close to the "Cambrian Explosion" of language that our friend Bruce told us to expect. As always, her photo album and progress reports are online at http://cosmo.pasadena.ca.us/lucinda
Our year was pretty good overall. Stan's work is still going well. It keeps him tremendously busy all the time. He is now running the web servers for the National Earthquake Hazards Program web site at http://earthquake.usgs.gov, as well as the servers for the USGS Southern California web site, the TriNet web site, and taking care of the computers that detect earthquakes in Southern California. If it sounds like a lot of work, it's because it is. But it's still the most fun he's ever had at work.
Cathy is still enjoying being a stay-at-home mom. She takes Lucinda on lots of fun excursions to places like Kidspace, Fun Town, the Children's Museum, and the L.A. Zoo. We've also taken her to Adventure City, which is a theme park specifically geared to very small children. She really likes the petting zoo there. Lucinda also goes to day care two days each week. This gives her a chance to socialize with other kids, as well as giving Cathy a much-needed break.
We had a few interesting adventures this year. We went to see the Russian submarine in Long Beach to get our dose of Cold War history. We also went to the Aquarium of the Pacific. Lucinda liked the sea otters. Another entertaining outing took us to the NHRA Drag Racing Museum in Pomona. Even though we're not big drag racing fans, it was an interesting afternoon. In the same automotive vein, we saw "Arte y Estilo" at the Petersen Automotive Museum. This was an exhibit about the history of the lowrider. The Museum of Death was another unique and interesting trip. We saw one of the beds from the Heaven's Gate house, as well as lots of other macabre memorabilia. We also took Lucinda to a couple of exhibits at the Museum of Neon Art. She seems to like the electric and kinetic art.
We saw some obscure movies, including "The Girl Next Door", which was a documentary about porn star Stacy Valentine, and "Grass", which was an immensely amusing and chilling history of the government's war on marijuana. Perhaps the most amusing of all was "The Eyes of Tammy Faye", which told the story or Tammy Faye Bakker's life.
We didn't do any big house projects this year, and we didn't take any vacation to speak of, either. We just spent the year at home. Still, it was a fun year.
Hope your year was as entertaining as ours.
Stan and Cathy