My Bicycle Racing Adventure at the Claremont Colleges
---
Back in 1978, I spent one semester riding with the Claremont Colleges Cycling Team. It was my first time in Southern California, and it was great fun. This is a picture of me with the team at the 1978 Southern California Intercollegiate Championship. The race was held at Cal State Dominguez Hills on May 6, 1978. There were two races:
Novice: USCF Category 4 riders
Expert: USCF Categories 1,2, and 3
I won the Expert race in a solo breakaway. I can't really claim that this was due to my being a super-duper rider. It was more due to the fact that they were doing some road work on the course, and there was an S-curve with an elephant-sized hole in the road. I was a little scared to be riding through that part of the course with the pack, so right at the start I took off on my own. I was hoping that a couple of other guys would join me and we could get away from the pack. As it turned out, nobody joined me, but the rest of my Claremont teammates managed to keep the pack from mounting any serious chase. I was a pretty good time trial rider, so I was able to stay away for the whole race, and won with about a 40 second margin.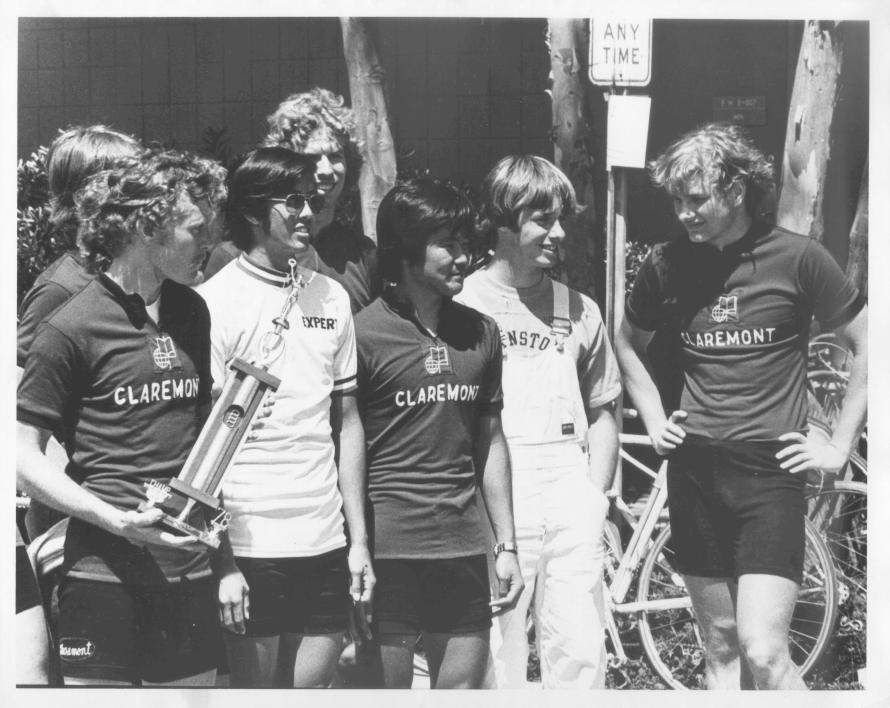 The people in the picture are, from left to right:
Ken Westbrook
Mike Riley (just the top of his head, behind Ken)
Me
Fred Matthews, behind me
Kel Yamada
Neil Brock
Chip Svoboda
---

Back to Stan's Page

Home