A 'Fractal Dragon' by Shannon O'Sullivan
---
First Session - October 4, 2003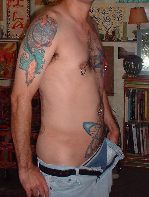 Here we are at the start, before applying the transfer.



The transfer was applied in little pieces. The pictures show the initial drawing, one possible color scheme, the pieces on the counter, and then the final stencil after after all the pieces have been put on, and with some hand-drawn lines to pull it together.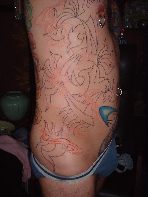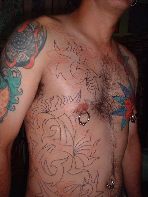 About 2.5 hours later, here is the rough outline.
---
Second Session - November 9, 2003
The photos show the 'before' view, and then two views after coloring in the top part of the figure. The total time was about two hours.
The plan now is to continue coloring in the rest of the piece with this same color scheme. After all that is done, Shannon has plans for purple background for it. So we will be working on this piece for a while.
---
Third Session - December 7, 2003
The photos show a couple of 'action shots' of Shannon doing the shading, and two views of the nearly-completed section. There is still a little bit more to do on this section, but I just couldn't sit still any more, even with the Bactine Trick helping. The total time was about two and a half hours.
---
Fourth Session - February 29, 2004
Two hours today. Parts of it were fine, and parts were very difficult.
---
Fifth Session - March 14, 2004
More fun today. Two hours this time. Most of it was all right, except for the two little red points on the hip bone. Ow.
---
Sixth Session - April 18, 2004
Two hours again this time. Mostly just orange shading..
---
Seventh Session - May 14, 2004
Not quite two hours this time. We're calling it done for now...